Beneteau Figaro 3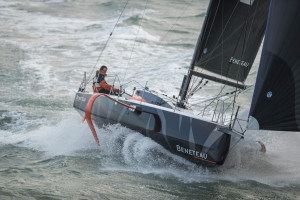 Beneteau Figaro 3
Modernity, reliability and performance. Combining the expertise of the architectural firm VPLP with its own, the Bénéteau Group offers the Figaro Class the first one-design foiling monohull ever designed. Well known by its very famous racing circuit, the Figaro Bénéteau 3 is today the third support realized by Bénéteau on this circuit that continues to shine the greatest sailors in the world. Designed for solo or short-handed sailing the new Figaro Beneteau 3 is definitely a new generation boat : Modern sail plan (square top mainsail, asymmetric spinnaker) optimized deck layout, powerful deck hardware.
The first standard habitable with foils !
Contrary to the IMOCA's foils, Figaro's one have a profile turned inwards and operate differently These new concept that generate an anti drift and a best time to redress the boat in the wave without increase the weight of the boat. This specificity increase automatically the boat speed, what make the courses all the more crazy to follow.
Technical specifications
L.O.A : 10,89 m Hull length: 9,75 m
L.W.L : 9,46 m
Beam: 3,48 m
Draft : 2,50 m
Keel weight : 1 111 Kg
Air draft : 15,22 m
Weight : 3 175 Kg
Fuel capacity : 40 L
Engine Nanni Diesel : 21CV
Listing Details
State
: Western Australia
Listing Features