Beneteau Antares 6 OB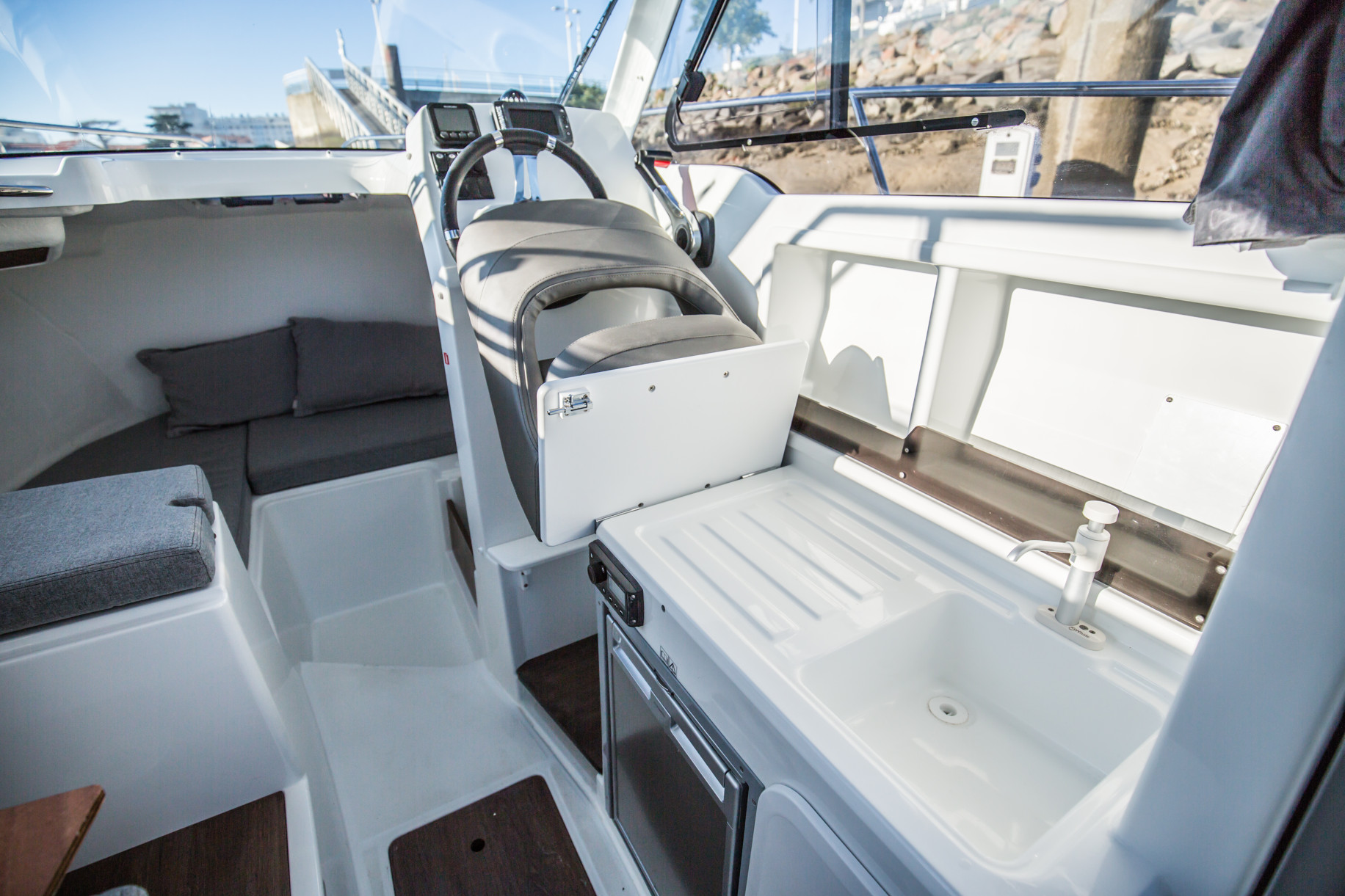 Beneteau Antares 6 OB
THE PROFILE OF THE ANTARES 6 IS BOTH MODERN AND TIMELESS, YET SHE STILL HAS ALL THE FEATURES THAT HAVE MADE THIS RANGE A SUCCESS IN THE LAST 40 YEARS. THE IDEAL BOAT FOR EXCURSIONS, FISHING TRIPS, AND PICNIC OUTINGS, SHE GOES A LONG WAY TO BUILDING BOATING CONFIDENCE AND MAKING THE EXPERIENCE ENJOYABLE.
BUILT ON THE LATEST GENERATION OF OUTBOARD HULLS, THIS FISHING CRUISER IS INCREDIBLY STABLE AND TRULY A PLEASURE TO DRIVE. WITH A SINGLE ENGINE OF UP TO 115 HP, THE ANTARES 6 IS IMPRESSIVELY MANOEUVRABLE AND MAKES QUICK WORK OF GETTING IN AND OUT OF HARBOURS.
The numerous hand rails make the Antares 6 easy to move around and add to the feeling of safety. Facing the saloon table is a very practical dining area with sink, refrigerator and storage. Cockpit converts into sunlounger. Lockers under seats. The forward cabin offers a bed for 2 and an optional marine toilet.
• Hull length: 5,52m 18'1''
• L.O.A: - standard: 5,62m 18'5'' - Maximum - with options: 6,50m 21'4''
• Overall width: 2,43m 7'12''
• Beam: 2,40m 7'10''
• Light displacement without engine: 1 320kg 2,909 lbs
• Light displacement (EC): 1 400kg 3,086 lbs
• Air draft: 2,21m 7'3''
• Draught min/max: 0,30 - 0,60m 1' - 1'12''
• Fuel capacity: 100L 26 US Gal
• Freshwater capacity: 50L 13 US Gal
• Maximum engine power: 86Kw - 115 HP 115 HP
• Driving shaft length: XL 635mm 25''
Listing Details
Category
: Motor & Power Boats
State
: Western Australia
Listing Features